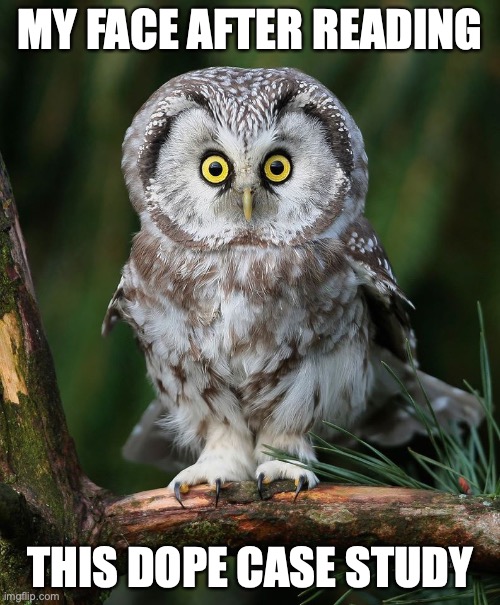 This is a story all about how I made over $600 posting pictures of owls.
Buckle up.
The Phone Call
"I just dropped off a guy making $10k/ month online and he lives in your neighborhood," my cousin said in an excited tone.
The year is 2015 and I had been researching how to make money online off and on for the past 5 years. At this point, I knew everything there was to know about affiliate marketing except how to make the money.
I'm a 23-year-old father of 3 at the time and ready to make it to the big leagues. I mean you always hear these stories of these 18-year-olds making millions online with these crazy ideas. I was 5 years past the mark and was ready for my turn.
This could be it.
My cousin is good at making money but he knew that I was a little more knowledgable when it came to the online marketing stuff. I took the phone number and immediately called the guy to make the connection before he forgot about the minor interaction he had in the uber ride.
He picks up and I remember thinking "wow this guy is pretty down to earth and he sounds pretty young". Perfect.
I don't remember the details of that initial call but I do remember the guy being super open to helping me. This was like a match made in heaven.
I do remember hanging up and telling my wife that I had finally found someone who was going to help take us to the promised land.
Class Is In Session
I spent all day anticipating my first lesson with my new found teacher. It was almost impossible to focus on my day job.
The time for the lesson rolled around it was time for me to become a millionaire!
His teachings were rooted in ecommerce and funnel building.
His strategy behind making money with online sales was to build an audience and use Facebook ads to advertise to a group of raving fans in a particular niche.
See, Facebook's audience tool is ridiculously powerful. You can find ANY demographic you can think of and the pages associated with it. For example, if I wanted to target fans of the Fresh Prince, I could drill down and target my advertising to a certain demographic, with interests in certain pages, that live in a certain area. Cool right?
We searched and found topics that people were passionate about then we went on Aliexpress.com and found inexpensive and lightweight items that we could sell to these audiences via Facebook ads.
I mean looking back on it all, it was really a fairly simple process.
We made a few pages like a page for fishing, snowboarding, and owls. Each page following the same process. We ran some ads to it to get some likes and build social proof.
Next, we created a post to direct people to our site which was just a landing page with made with Clickfunnels. We tested ads with a budget of $5 per day and followed up every other day or so.
Day 1-3? No results. Check analytics and kill the ad. Create a new page in a new niche and move on. Day 4-6? No results. Check the analytics and kill the ads. Create a new page in a new niche and move on.
At this point, I'm starting to get a little discouraged. I mean this guy is a beast and for some reason we're getting NO traction. What's going on? Am I jinxed? (I'm not btw).
Day 7 comes around and we find this little dainty owl necklace. It costs roughly $1.50 and it ships from China in an epacket. Perfect.
Our business model was simple. Someone pays for the product they see on Facebook that we marketed as FREE as long as they pay shipping and handling.
Once they process the order BUT BEFORE they're charged, there's a page in the funnel that says "Upgrade your order and get another necklace for $19.99! This is a $29.99 value".
The first sale gets them on the hook and we make little to no money and the upsell is mostly profit. BINGO!
We charge the end customer's credit card details then we place the order from China. We keep the difference between what we charged and the manufacturer's price and never touch the product. Infamously known as dropshipping. (Not a huge fan of dropshipping from a manufacturer that I don't have a relationship with.)
(I'm oversimplifying this but you get the gist. If you have more questions, hit me up in the comments and I'll try and go into more detail).
Back to the story.
We place our ad and I go to sleep.
I touch base with my teacher 2 days later, we pull up our dashboard, and guess what? We had our first sale.
Excited doesn't begin to explain how I felt. In my head, all we needed to do was scale and wait for the millions to kick in.
Well guess what? It's not that easy. The ads quickly stopped working and we moved on. My biggest takeaway was I now had some idea of how to go from soup to nuts. 🙂
The Let Down
It felt like a bad break up.
I don't remember all of the details. All I recall is him saying was he was moving on.
And if I wanted to learn more, I could buy a $500 course that he was an affiliate for.
I played it cool but deep down inside I felt crushed. I went and told my wife that we wouldn't be retiring so soon after all.
The Return of the Owls
"Why the hell do I keep getting these notifications?" I thought to myself.
Every single day there was a new notification about someone liking this stupid owl page.
Every single day there was another reminder of my defeat. Susan in Arkansas has liked your page. Jane in California has liked your page. Paul in Michigan has liked your page.
"You know what? How about I hide these notifications?" I mumbled.
Now, I won't lie to you and act like I remember what made me look. Maybe it was curiosity or maybe it was the hustler in me ready to try and turn this failure into SOMETHING.
But I looked and guess what? All of these random likes added up to a few hundred even after months of no attention.
I went in and changed the name, profile picture, and header.
Mega Owls is born.
The Growth, Content, and Monetization Plan
First things first. I wanted to build this audience up faster.
The engagement was strong as long as the caption was a question and the picture was dope.
Each like, comment and share was an opportunity to invite them to like the page. This worked incredibly well. The engagement compounded.
All I needed to do was go to Pinterest, Instagram, stock photo sites, and other Facebook groups to grab content. This was basically an endless flow of content. Genius.
Next thing I did was purchase a domain name and forward it to a Mailchimp landing page. This way anytime someone saw the domain and clicked through, I was building my email list.
I created a Printful account and began making cheesy owl related products.
I posted this owl mug to my page and said something to the effect of "Buy this today! There are only a few left and here's a discount code for X amount of dollars off."
I woke up the next morning with a sale!
Maybe all hope isn't lost after all. Or maybe it is. Didn't get another mug sale afterward.
But the concept is now proven.
Next, I tried creating simple bags and sweatshirts and it didn't work out. Oh well.
Giveaways
I started out doing giveaways in return for their email address. A simple $5 Amazon gift card and giveaway software did the trick. We picked up a few emails with that.
But I needed to get to the next level.
I began reaching out to ecom stores that focused on owls and asked if they could sponsor a giveaway in return for having people join their email list as a way to earn additional entries.
A few no's and the occasional yes helped us get our first 300 emails.
The Amazon Daily Email
I was talking to a friend and he suggested that I do a daily email featuring a different owl-themed Amazon product. All I had to do was link to it and collect the commission when it sold.
Genius! Why hadn't I thought of this?
All I needed to do was create a series of emails where each day an email automatically goes out featuring a different product.
Build one funnel, fill the top, and watch my subscribers get enticed by my mediocre copywriting.
To my surprise, I was getting sales pretty consistently.
The thing about Amazon Associates is if your customer buys something else after clicking your link, you get a commission on that product too.
Wanted a book on owls but ended up buying an 80″ flat screen? I get a commission on both. This was like the perfect business model.
Shortly after I picked up steam, Amazon sent a nice email saying I breached their ToS, my account was suspended, and I would receive no payout.
Perfect.
PBS
My page was growing so quickly that PBS contacted me about posting their content on our page.
Of course, PBS, come on and post. Somebody might as well benefit from this 10,000 fan audience.
The Final Stretch
The page was steady growing and I was looking for my next move.
I decided to have someone draw some coloring pages that I would sell as digital downloads. This didn't work at all.
Next I had a virtual assistant gather a bunch of interesting owl facts. I hired someone to create a cover. And now I had the base for my first ebook.
I took presales by promoting to the page and growing an email list. We ended up with 1 preorder. Although it was exciting, it wasn't enough to keep me interested.
It was time to start looking for my exit.
I created a FB group to attach to the page, invited all of the people who liked the page to start posting to the group, and cross-posted the content for more engagement.
The good thing about Facebook is you can invite people who interact with your content in your group to like your page.
Tack on a few more thousand fans.
I posted in the group that I was looking to sell the page and all of it's assets.
The next day someone messaged me and asked for a price and my reason for selling.
This was shocking because the group wasn't even 60 days old.
I told him honestly that I was just tired of all of this. I mean I had no passion for owls and was frustrated with the business side of it.
He said he needed to talk to his business partner and would message me later. I figured this was code for "You'll never hear from me again."
It wasn't.
He messaged me 2 or 3 days later and asked how to make payment. Was this really happening? Was I having my first EXIT? Unbelievable.
I sent the PayPal invoice and received a notification a few minutes later.
"You've received funds".
I guess every underdog has his day.
The End
If you liked this, show me love on Twitter or leave a comment! Do something to let me know that I'm not just writing into the abyss of the internet.
Roll end credits
Wait! You still here?? I need you to imagine this like it's the end credit scene from a Marvel movie.
*Calls Friend/Mentor*
Me: I sold the owl page and made over $600. It feels good and I'm surprised how smooth everything went through.
Mentor: Congratulations man. Next time don't sell until you 10x that.
Me: Challenge accepted.
Follow my case study day by day right here!
HUSTLEUNDERDOG PRESENTS MEGA YORKIES [CASE STUDY] OF GROWING A FACEBOOK PAGE TO $4000 PROFIT/MONTH.
Join the list and never miss any of my strange experiments.